Catalogue raisonné, 2015.
The works from the catalogue was on show throughout 2015 and 2016 at four different museums around Denmark.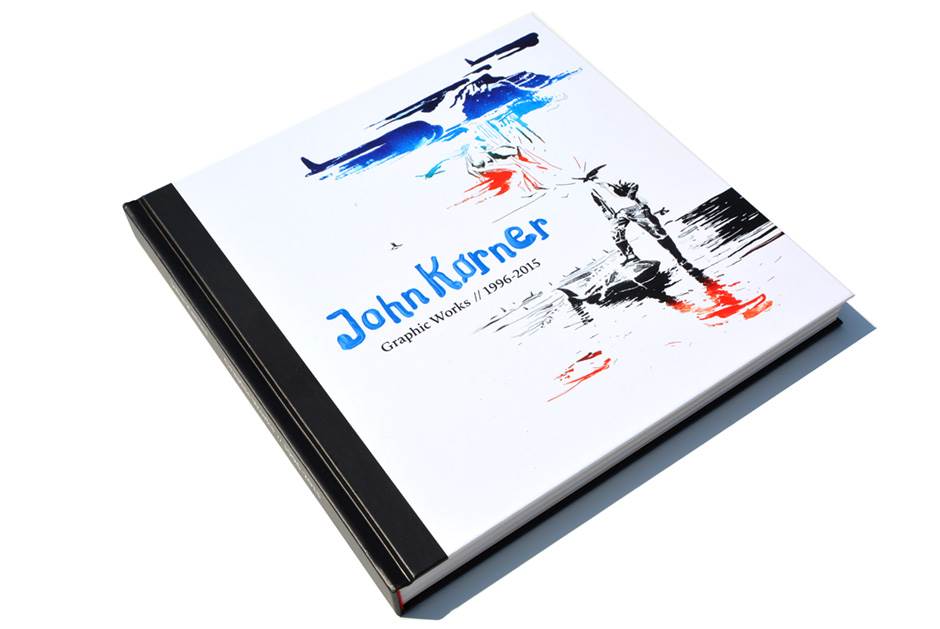 The prostitute, the soldier and the landscape
– the prints by John Kørner
By Maria Kjær Themsen
"Tomorrow's Commitment", "Great bank – rich in independent personal experiences" are among the titles of graphic works by John Kørner that hang in a glass frame in the kitchen of the artist's studio in Amager; titles that testify to the existence of a certain social element in the prints – a social element that is also inherent in the nature of prints themselves: they are created on paper, they can be reproduced, and they can be purchased much cheaper than exclusive paintings – three things that also link the print with the democratic project of the artist book. For this very reason, both prints and artist books are often neglected dimensions of an artist's oeuvre, especially if the artist is a painter like John Kørner. For the exclusivity of painting remains indisputable, whereas paper can be copied, crumpled up and thrown away, or stored and forgotten on private shelves, without those who support art with capital necessarily recording its origins. But it is precisely these qualities of both prints and the artist book that provide greater social opportunities for the dissemination of the artistic project; there is greater accessibility when the exclusivity of the artistic object is replaced by reproduction.
Cuts, etches and prints
Although prints, in a European context, began as a way of emulating the paintings of the great artists, and thereby communicating their work to a wider audience, the print gradually became an independent form of artistic expression. Copperplate engravings, woodcuts and etchings were particularly popular, and were developed and refined by great artists such as Dürer (1471-1528), Rembrandt (1606-1669) and Goya (1746-1828), who turned the print into an artistic medium in its own right, and whose graphic works are now regarded as treasures.
Although prints are currently experiencing something of a revival through the renewed interest of a number of younger artists in the medium, for many people, prints remain associated with the 1970s penchant for printed materials that were either very colourful or very political, and which were produced in large runs of up to 500 copies. Even today, many summer cottages are still decorated with lino prints and woodcuts in clip-on frames from the decade when prints suddenly became commonplace items.
The interesting thing about John Kørner's approach to the print is that he embraces both historical approaches; he creates prints that are both colourful and political, but they are treated as treasures and exclusively produced in small runs, and he rejects the clip-on frame promptly and firmly by creating unique, colourful and handmade wooden frames for them. Kørner originally trained at the School of Graphic Arts at the Royal Danish Academy of Fine Arts in Copenhagen, and the medium has thus always been part of his artistic studies and practice. He works with prints in a varied manner, utilising most of the graphic techniques: lithography, engraved copper plates, linocuts and woodcuts, large formats and small formats – often, like his paintings, created in series.
Selected works will be exhibited at:
Odsherred Kunstmuseum
June 4 – September 27, 2015
Kastrupgårdsamlingen
October 8, 2015 – January 31, 2016
VejleMuseerne – Kunstmuseet
April 16 – August 14, 2016
Munkeruphus
August 28 – October 30 2016
Catalogue available at the four museums
and at Bo Bjerggaard Gallery, Copenhagen.
Catalogue content:
Early Works, 1996
Landingsbane for Ufoer, 1996
Banking and Engagements, 2000
Violets, 2001
Rain Effects, 20023
Single Works, 2003-2004
The Faroe Islands, 2004
Weekdays at Work, 2004
Fishermen, 2004
Performing Outside, 2006
Single Works, 2007
Gallery Fruits, 2007
War Problems, 2009
City Rats, 2009
Women for Sale, 2010
Christiania, 2012
Six Potential Locations, 2012
The Whale Killing Project, 2013
Single Works, 2013-2014
Understanding the Impact of Architecture, 2014
Tashqurghan, 2015
Single Work, 2015